Our knowledgeable staff are passionate about providing families guidance and support during the funeral planning process and well after the funeral. Together, we can honor your loved one's life while beginning your grief journey.
---
Team Janssen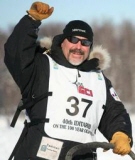 Scott Janssen
President & Owner
Scott Janssen is the President and owner of Janssen Funeral Homes, Inc.
His interest in funeral service began while he was working at Oakdale Cemetery in his hometown in Northern Minnesota. After graduating high school and marrying his high school sweetheart, Debbie; he received his Bachelor of Science degree in mortuary science from the University of Minnesota. Upon graduating in 1985 he was offered a funeral director and embalmer position at Evergreen Memorial Chapel. He and Debbie packed up their belongings and drove the Alaska-Canada Highway to Anchorage. They planned on living in Alaska for two years and then moving on to new adventures; 32 years later Scott and Debbie (along with his son-in-law Jordan Eastman) now own Evergreen Memorial Chapel and its three associate funeral homes (Janssen's Alaska Cremation Center, Janssen's Eagle River Funeral Home & the newest location Janssen's Mat-Su Funeral Homes) and have found that Alaska is all the adventure they could have ever wished for.

He and his wife of nearly thirty-six years, Debbie, are the parents of two adult daughters, Angela and Chelsea. Angela, his oldest, works for the Anchorage Police Department in the Cyber Crimes Unit. She and her husband Billy gifted Scott and Debbie with their first grandchildren. Chelsea works as the Chief Financial Officer and Office Manager for all four funeral homes and is married to Jordan Eastman.

Scott is an avid outdoorsman, who enjoys doing maintenance and lawn work around the funeral home as much as helping families and their loved ones. He has been a fan of Harley Davidson Motorcycles since he was young, and finally became a member of the Harley Owners Group in 2001. Always a company man, he ordered his Harley to match the exact color of the company Hearse.

Scott, the "Mushin' Mortician," began mushing in 2007 and says " the Iditarod has been [his] dream since 1986". In 2011 that dream came true when he joined the Iditarod Finishers Club after he and his 11 dogs crossed the finish line in Nome, Alaska. He will be taking on this "adventure of a lifetime" again this year and is hoping to finish in the top 30.

He is a licensed funeral director and embalmer and a certified crematory operator; doing a majority of the funeral home's embalming's and cremations.